Synopsis: A mishmash of lovelorn Londoners at Christmastime.
Love, Actually has become a modern Christmas standard, inspiring delight and provoking aggravation since its 2003 release. The movie bounces all around London in the weeks leading up to Christmas, following a slew of likable and obnoxious characters. They all do brave and stupid things for love. Writer-director Richard Curtis created nine storylines in which most of the characters know each other or at least cross paths. Part of the fun of watching Love Actually every year is cheering on your favorites and yelling at the dumb things your unfavorites do. The movie's message is "Love, actually, is all around us." The stories conveying the message vary considerably in quality.
Let's breakdown the nine storylines from best to worst. My turn first!
1.) "Cheated On" starring Colin Firth as 'Jamie' & Lucia Moniz as 'Aurelia.' Jamie's gf has cheated on him, so he's retreated to the South of France to write a novel and rest his broken heart. While there he meets Aurelia, the beautiful Portuguese woman who has been hired to keep house for him. Neither speaks the other's language. Comical misunderstandings ensue. I adore this couple! They are both attractive and sympathetic. Of course Colin "Mr. Darcy" Firth gets the right blend of bumbling and manliness. He practically trips over his own feet when he sees the subject of his affection taking a dip and spies a tramp stamp. She shyly conveys her own interest in him. But being a bumbling English gentleman nursing a broken heart, he keeps retreating from telling her how he feels. You want to get a translator for them and send them on a romantic dinner date. But why should we have to do all the work? One of these two needs to bring the other flowers or chocolates. This story has the bestest BEST SCENE: When Jamie walks through Aurelia's neighborhood at night.
2.) "Newlyweds" starring Keira Knightley as 'Juliet', Chiwetel Ejiofor as 'Peter' & Andrew Lincoln as 'Mark.' Mark is in love with his best friend Peter's wife, Juliet. Their story opens with Mark as best man at Juliet and Peter's wedding. Whenever Juliet isn't looking, Mark gazes at her with naked longing. Peter must be the most clueless man alive! Mark exudes pining for Juliet from every pore. He literally has to keep his distance from her, so he doesn't burst into flames of Juliet-induced desire. You feel so sorry for Mark that you'll start drawing up separation papers for Peter & Juliet. No need to rush into marriage — why not see who else is out there?! Like Mark, dreamy Mark. BEST SCENE: When Juliet watches the video that Mark took on her wedding day.
3.) "Prime Minister" starring Hugh Grant as 'David' the P.M. & Martine McCutcheon as 'Natalie' a member of his household staff. David is the newly elected prime minister, a very busy man who develops a near-instant crush on Natalie. Natalie is from a working class neighborhood and curses quite a lot. She's also sincere, friendly and good at her job. But David wants to be appropriate and avoid any romantic entanglements. Good on you, David! Things get complicated when the U.S. President — Billy Bob Thornton, lol– stops by 10 Downing. He's completely sleazy and is proud to be a bully during negotiations. At one point, after leering at Natalie, he grins at David and opines that she is a "pretty little son of a bitch." Gross. But also, why didn't Billy Bob tell the filmmakers that no one in America –or Texas– has ever used that phrase? Also, Mr. Curtis' thing for a woman with avoirdupois is showing; numerous characters, including Natalie herself, devalue Natalie by making jokes about her weight and thigh-size making her unattractive. Well, all the world (especially Mr. Curtis) can see that she is attractive, but in Love Actually it's just leaders of nations who see it. BEST SCENE: David & Natalie at the school Christmas pageant.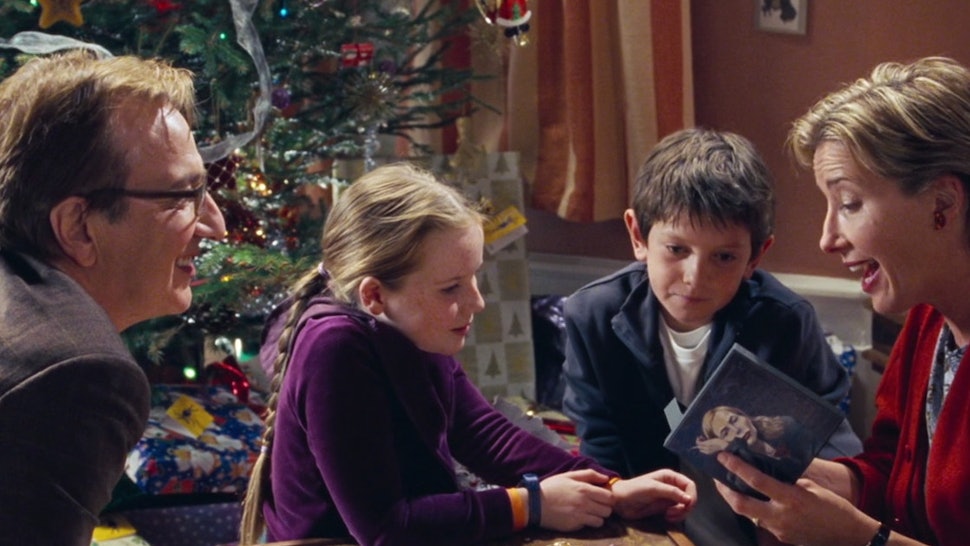 4.) "Marriage Malaise" starring Emma Thompson as 'Karen' & Alan Rickman as 'Harry." Harry & Karen live an upper-class life in London, he running some sort of agency (design? advertising?) and she caring for their school-age kids. Karen also stays busy making cheeky bon mots to anyone who will listen. Harry doesn't seem to make any business decisions, but does stay busy trying to set-up his employees and throwing quips about the office. All seems well; enter temptress. Harry has a new admin assistant who spends her time trying to rub up against her boss and get him to look between her legs. Hey, homewrecker! Leave Snape & Prof. Trelawney alone! BEST SCENE: Harry tries to be sly whilst gift shopping. WORST SCENE: When Emma T. subjects us to listening to a maudlin Joni Mitchell tune while she slumps around her bedroom getting teary.
5.) "Widower" starring Liam Neeson as "Daniel" & Thomas Brodie-Sangster as "Sam." Daniel's wife has recently died, leaving the grief-stricken man to care for his young stepson, Sam. Daniel is pretty broken-up, but puts on a brave face for the boy. When he tries to console Sam over the loss of his mother, the kid assures his stepdad that, while he's sad about mum's passing, the reason he's been moping around is because the girl he has a crush on doesn't notice him. What… the…hell?!! Mum just died, but he's feeling sorry for himself that the cool, talented girl at school doesn't want him as a boyfriend. With this little concern over his mother's death, I began to wonder if he was a little psycho who had poisoned his mom. Anyway, the kid looks all of nine years old, whilst the girl he likes is rapidly closing in on adolescence. Sam wants to win her heart and his stepdad, using astoundingly bad judgment, encourages him to pursue her with a stalker's zeal. At one point, he's actually disappointed that Sam doesn't make a move to kiss the girl. Daniel and Sam form a real folie a deux, as they act out scenes from Titanic and discuss each's prospects for love. In a bid to get the girl to notice him, Sam practices drums like a maniac, without pause, so he can play in the girl's band at the Christmas pageant. Woe be she if she doesn't notice Sam! You'd think the stepdad would try and curb the kid's obsession, but, no…. instead he teaches him entitlement. After all, he's in love! The girl should welcome his attentions! There you go, what a great pastime for the newly widowed– dating coach to pre-pubescents. BEST/WORST SCENE: When the bratty kids runs through airport at top speed, eluding the authorities as his stepdad cheers him on.
6.) "Sad Sack" starring Laura Linney as "Sarah" & Rodrigo Santoro as "Karl." Sarah and Karl work at the same office. She's had a crush on her co-worker for months. He's kind of shy, but finally, finally! asks her to dance at the office holiday party. Even though they are both in their thirties, they each act like neither has ever been on a date. In fact, they act as though this is the first time they have interacted with someone to whom they are sexually attracted. Well, that's fine, nothing wrong with inexperience. Except there is a complication. Sarah has a mentally ill brother who is institutionalized nearby. She has frequent contact with him. I don't remember his name, but Sarah always refers to him as Babe. As in "Babe, don't try and strike me" and "Babe, my darling, the nurses aren't trying to kill you." Btw, Sarah & Babe are American and I find it implausible that the NHS would take on Babe's care. And any American insurance would probably not cover Babe's illness. It appears zero research went into mental illness or the facilities that care for such persons. Babe is entertainment's version of a mentally ill person, i.e., violent and paranoid. The script even offers a joke about Babe's absurd delusions. When Sarah visits Babe, they meet in a special room where a burly chap watches Babe through the glass and rushes in to subdue Babe and give him warning looks when he lashes out at his sister. Babe also has 24-hour access to a phone so that he can drive his sis around the bend with his non-stop calls. Finally, Sarah gives Babe a scarf for Christmas. Yes, a scarf. What a great gift, a veritable a noose-making kit. WORST SCENE: The apparently cut scene where she tells Babe's caregivers that he should have constant access to a phone because she is a masochist.
7.) "Ancient Rocker" starring Bill Nighy as "Billy Mack." Billy Mack is an old rock 'n' roll guy trying to earn a living with a comeback. Specifically, he releases a Christmas tune that he hopes will hit #1 for the holidays. He is creepy and off-putting as can be, slithering around in 1970's pantsuits making lewd remarks. Everyone in fictional London finds him great fun. While the audience just has to grin and bear his scenes and the repetition of the terrible "hit" song. He doesn't have a love story as such. But he does get around to appreciating his manager Joe a bit. Throughout much of the movie, he toys with Joe by mucking up interviews and insulting his appearance. The movie shows its age when Billy makes homophobic jokes, in the vein of "Friends" — Ha-Ha! I like you, but I'm not Gay! Wouldn't that be funny for a guy to be gay?! Answer from the 21st Century: No, being gay isn't a humorous state of being for straights to laugh at. WORST SCENE: The sexist music video.
8.) "The Nakeds" starring Martin Freeman as "John" & Joanna Page as "Judy." John and Judy meet on-set where they are employed as body doubles. The joke is: they are perfectly comfortable being naked together and simulating sex, but they are both too bashful to ask the other out. Strangely enough, this is the dullest story. And Martin Freeman comes off as smug and uninteresting, as per usual. WORST SCENE: Take your pick.
9.) "The Wanker" starring Kris Marshall as "Colin." Colin has a thoroughly repellant personality, so he can't get a date. But he's so horny. What's a wanker to do? He figures that his English accent would be so appealing to American women that they will be clamoring to have sex with him. So he heads off to the midwestern state of Wisconsin to get laid. He goes straight to a bar from the airport. The bar is populated by dimbulb model-types. The big joke is that when they hear his accent, they offer group sex immediately. Unfunny and extremely sexist. WORST SCENE: Every one.
When I think of stories 8 & 9, I get mad at the movie. But then I remind myself of my favorite stories (1,2 & 3), and I end up watching Love Actually every Christmas. And I bet it's sort of like that for you too. So enjoy your own personal version of the movie by watching your fave stories and zipping past the ones you don't like. Just be sure to watch the very end, where people are seen reuniting with loved ones at the arrivals area at Heathrow.
Movie Loon's Movie Review Shortcut:
Grade: B+
Cut to the Chase: Lots to like, including London over the holidays.
Humor Highlight: The "Prime Minister" story