Synopsis: Teen struggles with homelessness while trying to get a performing arts scholarship for singing.
Time to count your blessings, everyone. You may think that you have had it bad, but trust me, you don't have it as bad as Amber Appleton. Amber is homeless, but that's just a platform for all of the misfortunes that befall her. And you might think that you deserve a break. But no one is more deserving of a break than saintly Amber.
All Together Now, streaming on Netflix, is based on the YA book  Sorta Like a Rock Star by Matthew Quick. Its plot turns on teen homelessness. But homelessness enlivened with the dream of a singing career. Amber follows her dream in spite of obstacles– many obstacles. The movie also explores: the extortionate cost of U.S. colleges, alcoholism, the exorbitant cost of veterinary care, comedians in supporting dramatic roles, mediocre "show stopping" songs, backpacks that can accommodate a chihuahua plus clothes and a laptop, lack of affordable housing, domestic abuse, a Carnegie Mellon hoodie, non-living wages, sketchy ESL teaching qualifications and bad boyfriends name Oliver.  Wow! Are you tired yet? Well, you won't know what tired is until you know Amber's schedule. Here we go…
All Together Now  introduces us to Amber Appleton, a comely, sunshiney young woman who resembles former YA tv stars Miranda Cosgrove (iCarly) and Vanessa Hudgens (High School Musical). She is, in fact, Auli'i Cravalho who emerged into the bigtime with her role as the voice of  Moana. Unfortunately, we don't hear too much of her voice because she is always busy biking to her various jobs.
Amber teaches an ESL class to older Korean women. She makes it fun with clapping and singing, leading them in a song which has no vocabulary words of practical use; it's about a tipsy goose. No matter– they are all having fun!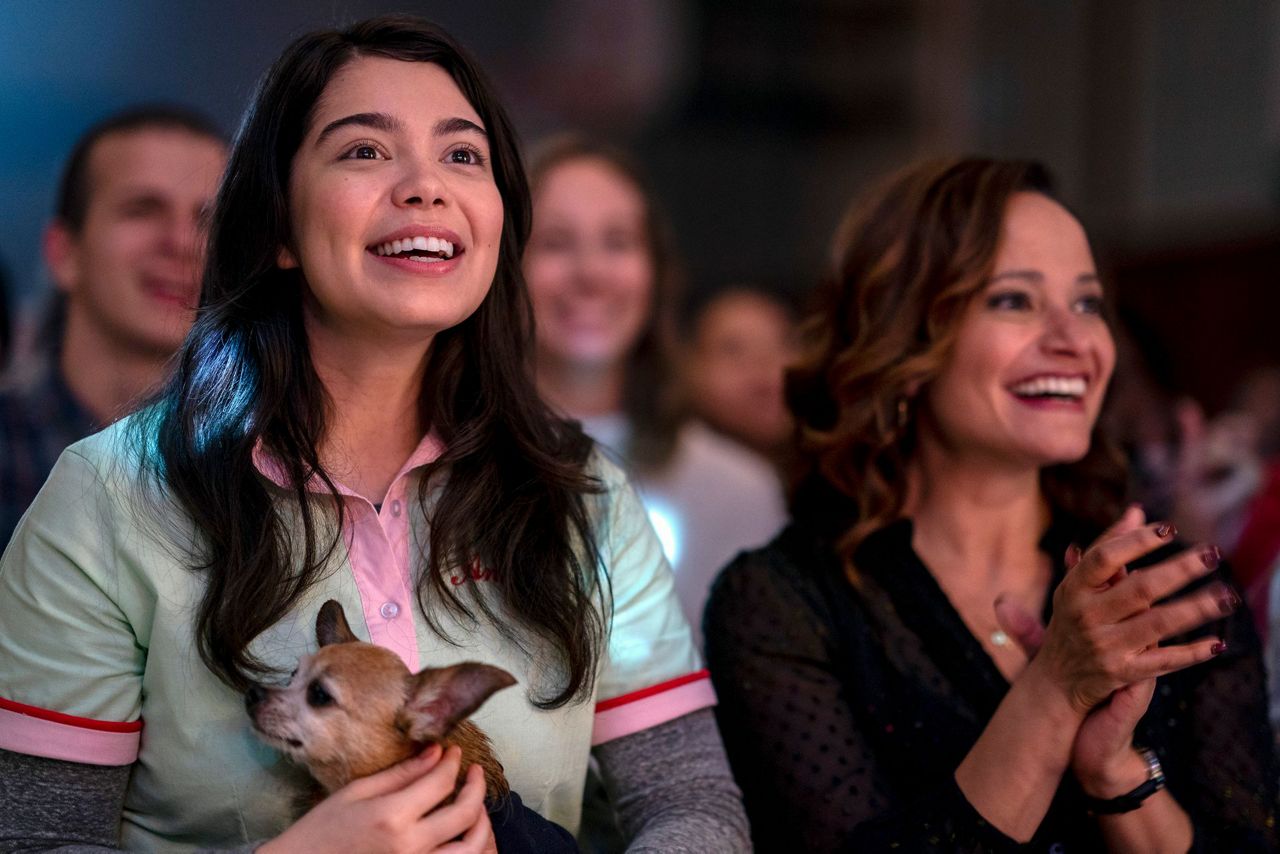 Then she grabs her little chihuahua, Bobby, who goes just about everywhere with her, places him in her backpack and speeds off on her bike to another job at a doughnut shop where she washes dishes. She also works at a senior care center where she happily talks with the residents. If you think three jobs is no big deal, let me inform you that she is also a fulltime student.
At first, it seems that she has yet another job as a home healthcare aide when she arrives at a young man's house and begins making his breakfast. Soon another young man arrives in an unmarked van and drives them to school where, it turns out, they are all students. The student chauffeur is a guy named Ty who comes from a well-off family. Amber has a crush on him. Her doggo likes him, so he seems okay.
Poverty forces Amber and her mom to shelter in a school bus at night. Amber passes the time studying while her mom is out. Her mom is an alcoholic. Her mom is also the bus driver of the school bus that they sleep in. While it is convenient for her to roll out of her bed-seat and stroll up the aisle to her job, I felt strongly that, due to her all-night boozing, driving children around was probably not the right job for her.
Amber probably works about forty hours a week and bikes around fifty miles a week to her jobs, so I was surprised by how energetic she was at school. Especially since she is also busy running the school talent show. Of course. Since Amber is too poor to afford coffee, it seems to be her dreams that keep her going. She wants to make enough money to afford rent. Also she wants to study voice in college. She will need a scholarship. We know she deserves it because we get to hear her beautiful voice, while Ty accompanies her on piano. It's a song that her dad wrote. But he died. That's why her mom drinks. And has a bad boyfriend named Oliver. We later learn that Oliver is a boozer who hits her mom.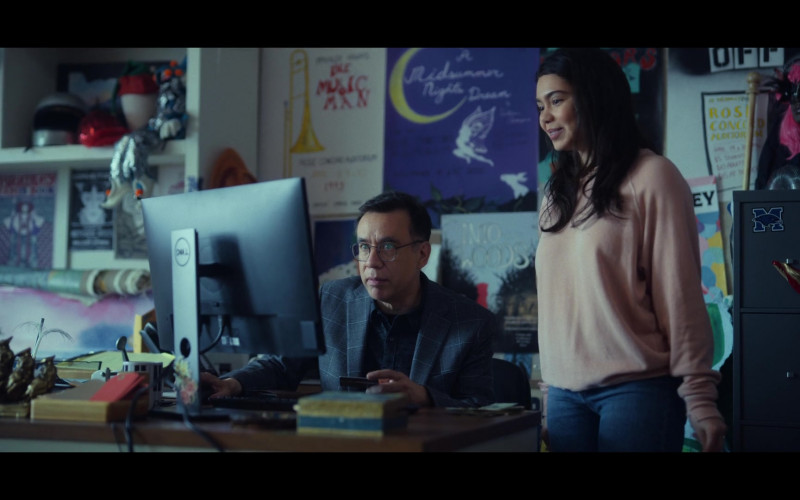 Amber is super-likable and has people who, if they only knew she was homeless, would help her. Friends like comedy legend Carol Burnett and former SNL star Fred Armisen. Ms. Burnett plays a cranky resident of the senior facility with whom Amber plays chess. Mr. Armisen is an encouraging teacher. He doesn't have any funny lines, but if you've seen Portlandia, you will be able to ironically enjoy his performance. In fact, Fred is the first person Amber tells when she gets an invitation to audition for a place at Carnegie Mellon in Pennsylvania. Carnegie Mellon is her dream school. We know this because she is always wearing a Carnegie Mellon hoodie. But how will she afford the flight to the East Coast? She doesn't have enough money for rent and a plane ticket.
Amber, this will be the least of your problems if you get accepted because the school is –with tuition, room & board — about $72,000 a year. Better sing your heart out for a full scholarship. Hmm, how about studying at the University of Oregon for $27,000 a year before student aid? No! For one thing, Carnegie Mellon is where her dad went to school! (Maybe the family never got ahead because of his student loans?) For another thing, kids in teen movies always dream of a private college. Examples: Hillary Duff in Cinderella Story, Amanda Bynes in What a Girl Wants. Public universities? Blech!
More hardships come along, but she is too proud to ask for help and she is off social services' radar. You might think that Amber spending the night on a park bench, in frickin' cold, rainy Oregon, is her low point. You would be wrong. Geez, fate is cruel, but this supposedly inspiring story is just the poor girl getting knocked down every five minutes. You can even see her dog trying to communicate to her, For Pete's sake, just start a GoFundMe!
Still…Auli'i Cravalho is an appealing performer finding her footing. And with her incredible voice, you know she'll get a scholarship somewhere. And maybe even a non-bus home to live in with her little chihuahua.
Movie Loon Shortcut Movie Review:
Grade: C
Cut to the Chase: Bathetic, but engaging enough for older kids. Positive portrayals of persons with disabilities.
Humor Highlight: Fred Armisen acting serious.